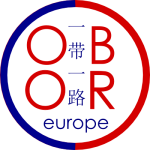 In January 2017, I launched with Cooperans the OBOReurope platform. This one aims at studying and promoting the "One Belt One Road" project in Europe.
The "One Belt One Road" (OBOR or"Belt and Road") initiative is a development strategy formulated by China to boost trade with Europe and Asia.
The European Union should be involved in this project, so that European stakeholders may seize the opportunities offered by this projet.
OBOReurope helps European decision-makers developing their answers to the OBOR.